Kuljetus Nokkanen Oy
Asiakaslähtöisyys on aina ollut toimintamme perusta. Suoritamme asiakkaan toiveesta aina yksittäisistä kuljetuksista ja nostoista vaativiin ja mittaviin kuljetuskokonaisuuksiin.
Palvelumme voidaan jakaa karkeasti neljään eri kategoriaan:
Ulkomaan projektit
Metsäenergia-ajot
Ulkomaanprojektit
Palvelemme kasvavaa asiakaskuntaamme myös Suomen rajojen ulkopuolella.
Toimitamme pääsääntöisesti ulkomaille tai ulkomailta asiakkaiden toiveesta normaalin kuljetuksen mitoilta poikkeavia artikkeleita; leveitä, korkeita, pitkiä ja painavia. Olemme vierailleet useaan otteeseen muun muassa Venäjällä, Baltian maissa ja muissa Pohjoismaissa. Menemme sinne missä meidän palveluitamme tarvitaan.
Finnish transport company Kuljetus Nokkanen Oy lifts, loads and transports goods allmost everywhere!
Call or E-mail to get more info!
Mob. +358 40 721 0522 (Jukka Nokkanen)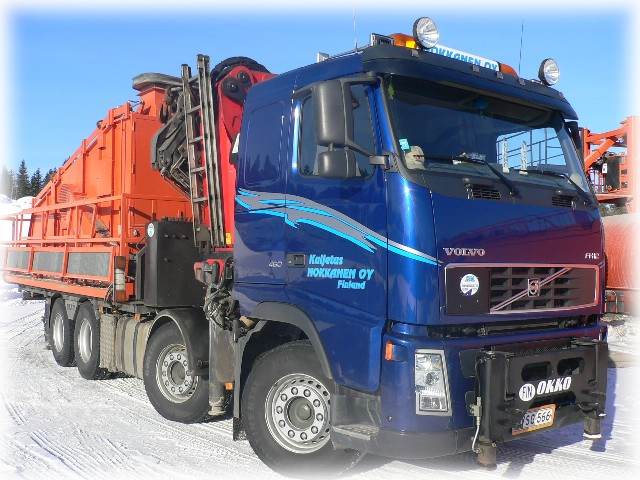 Kuljetus Nokkanen oy
Tapiolantie 31, 45740 Kuusankoski, Finland
Jukka: +358 40 721 0522, info[at]kuljetusnokkanen.fi
HISTORY
In 1975 Kari Nokkanen received transport license and started his truck driving career in finnish KTK company. In 1980 Kari went to visit local bank manager and soon after that he had his very own truck which he transported feeds around Eastern Finland. First he had only one truck but later on he invested new one and also employed more drivers.
After driving feedtruck around Finland for 14 years he decided to change his truck equipment. No more was he driving construction materials or feeds – now was time to change area of professional for special field of transporting. He invested for 32 ton truck with lifting grane which he could lift, load and transport allmost everything and transport them allmost everywhere.
Business was good and he had plenty of work, allmost too much for a one man and one special truck to handle. Luckily Kari´s first born started to aid his father at hard work by jumping in the drivers seat. Nowadays the company is called Kuljetus Nokkanen Oy and it transport allmost everything with professional care to its destination.
The very roots in transporting goods, in family Nokkanen, goes allway to the beginning of 1900. Kari´s fathers father, Emil Nokkanen, transported wood in Southern-Finland – with a horse. Kari´s Father, Taisto Nokkanen, was in the transporting business too. He drove petrol for company called Gulf. You can find expertise in our family and at the time our good reputation, in transporting goods, keeps up fourth generation in Kuljetus Nokkanen Oy.